Making Your Rich Dreams
Come True.

Maybe you've read our book or someone else's and you're still not happy with the way your life is going. All we can tell you is what you've heard all your life.
Success always starts with The Basics.
Whether you're a famous athlete, a millionaire or somebody wanting a better life - Success always starts with The Basics.
So, we offer you The Basics.
Six hours of Tom & Penelope Live on CD.
Now, you can listen to The Basics of the Rich Dream's system for success. The one that works and works and works.
Here's your chance to hear 6 hours of great tips, secrets and ideas. Six hours of fun, energy and success. Six hours of stories about how you can make your rich dreams come true.
Here's what the first person to hear these CDs had to say.
This material is mesmerizing and the interplay between Tom and Penelope is spellbinding. I started listening to check sound quality before I duplicated them and I couldn't stop listening. Tell the world - everyone should hear these CDs.
Richard N. Rubinstein. M.D.
www.tapeduplicatornman.com


CD 1 - Planning The Rich Year Ahead
Now is the time to pull out your 79-cent notebooks and plan for the coming year. That is if you want it to be full of everything you want in life. Learn how our family plans the year ahead both business and personal. This is a great time to refresh your notebooks and pick up some great tips on what to write and how to write it. The more you work this system the better it gets.

$49 Value
CD 2 - Building Rich Relationships
Life is too important and too big to go it alone. Whether it's in business or your personal life relationships are the life blood of a successful person. Learn the secrets to creating relationships that support you. Discover the key to prosperous business relationships. Open the doors to warm friendships, happy families and loving partners.

$49 Value

The these two teleseminars cost $49 to attend each. That's $98 in value. But there's more!
Bonus!

CD 3 - Tom & Penelope Radio Interview
This interview has never been available before. It was recorded live for a national radio audience. Only the commercials have been cut out. You get to hear it all. Rare stories, hard questions and the answers that already helped many people make their dreams home true. We include this CD as a free bonus. Just to say thanks for thinking of us.

This CD series covers the basic questions most people have after reading the Rich Dreams ebook.
I understand and agree that success begins with The Basics. I also understand that using the material in this package will help me to effectively master and utilize the basics to create a life Rich Beyond My Wildest Dreams. I understand that I will receive . . .
Both 2 hour seminars
PLUS
the free bonus radio interview.

All for only $97.
Don't miss out on this special limited-time offer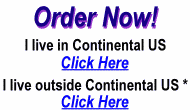 * International orders may require up to 4 to 6 weeks for delivery due to customs delays.