Attracting Money is still a whole
lot easier than you might think.

---
And it all starts with one amazing secret.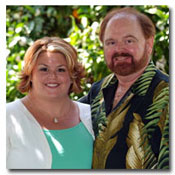 How would you like money and abundance to seek you out? Immediately. Right Now. Not tomorrow or the next day. Now. FAST!
Instead of your having to work long hard hours to find money and abundance. Money and abundance would find you.
Opportunity, a better job, a great business, love, friendship, success, fun, happiness and yes, more money than you can spend.
Even in a bad economy.
Yes, you can have it all. You can have money and abundance, FAST! Once you know this simple secret.
Imagine having the power to open the
flood gates on a never-ending river of
money and abundance.

Wow! Can you imagine that?
Can you imagine never having to worry about money again?!!!
Right now, this very instant, there is a never-ending river of abundance flowing just beyond your view. To access...to make it work for you now all you need are two things.
You need to know how to find this river of wealth and abundance.
You need the tools to open the flood gates so all that money and abundance can flood into your life.
We know it works because we used these very tools to create our own river of money and abundance.
Enjoy the life you dream of living.
A few years ago we were still digging out from under our second personal bankruptcy. Money and abundance were only a dream.
We were living in a house where ants stacked their dead in our bathroom every morning. Our refrigerator door was so rusted magnets wouldn't stick anymore.
Heck, the Salvation Army refused to take any of our old furniture. It wasn't up to their standards.
Then one beautiful summer day at the beach a most amazing thing happened. We were given an amazingly powerful secret to creating money and abundance. FAST!
I know this sounds hard to believe, but this is exactly what happened to us.
We opened those flood gates and KAZAM!
One day we were struggling to pay the rent. The next we were swimming in money and abundance.
A never-ending river of pure gold
Today we are rich beyond our wildest dreams.
We own expensive Southern California homes. We drive new cars for which we paid half the retail value. We have a wonderful business we run from our homes. We live a lifestyle most would envy and of which we ourselves are eternally grateful.
We love our work. We throw great parties that sometimes double for rock concerts. We eat in great restaurants and we constantly buy fine new things to enhance our lives.
We see our lives as one big beautiful vacation.
And the most amazing part of all is that we do not chase money. It flows to us like a never ending river of pure gold.
I'm Rich Beyond My Wildest Dreams.
I am. I am. I am.
When the money and abundance first started rolling in...it came FAST!
So, my daughter, Penelope, and I wrote a book, I'm Rich Beyond My Wildest Dreams. I am. I am. I am. That book is both the story of our family's rise from our second personal bankruptcy to rich and happy life. And the system that took us there.
That amazing book has already changed and empowered the lives of thousands of people just like you in every continent of the globe.
Yes, that book can change your life. It contains a wonderful system for getting the things you want in life.
But we left something out of that book. I don't know if we forgot it or just weren't ready to part with the Secret to attracting money and abundance, FAST.
We didn't tell you how easy it was to open the flood-gates to the infinite flow of abundance.
We didn't give you the tools you need to ACTIVATE that never-ending river of money and abundance.
That's why we created...

Money is the world's primary means of exchange. Regardless of where you are or what you do, you need money. And that probably won't change anytime soon.
Even though there is an unlimited supply of money in the world. Even though the world economy grows larger every year. Even though there are more millionaires per capita today than ever before in the history of humankind.
One fact remains.
Getting a healthy share of that money for yourself can at times seem like an uphill battle against unbearable odds.
Only because you need the tools we never talked about until now.
The tools that open the flood-gates on money and abundance.
The tools we use nearly everyday to…

Yes, we knew secrets; we just weren't sharing them.
Secrets that can fill your life with a sudden and powerful infusion of cash.
Once it occurred to us that we were holding something back, something essential to your success, we held that amazing teleseminar.
Our shows normally last a couple of hours. But this kept going and going.
This show lasted nearly 4 hours. And when it finally ended the audience was ablaze with energy and enthusiasm.
It seemed like we had opened a connection directly to the Source of All Power and Knowledge and simply allowed that life changing energy to flow through us to you.
We felt something so powerful and so rare that we all knew this show was a gift. A very special gift.
Listen to this 4 minute sample of our nearly 4 hours of answers, solutions and practical tools you can use to activate the flow of money into your life. FAST!

The material we've transcribed into this ebook carries the powerful imprint of that amazing seminar. It holds the life changing essence we gathered that day. Tools you can use in your life to attract money and abundance, FAST!
Tools to help you turn ordinary days into power days. Tools to keep you in the infinite flow of abundance waiting for you now.
Here are the 9 essential elements we talk about for activating the flow of money and abundance into your life.

Understanding the Invisible Essence


of Money and Abundance


Making the Invisible Physical


Realizing the Easiest Way to Access Money

and Abundance


Imaging the Flow of Money and Abundance


Cashing in on Dharma


Owning the Flow of Money and Abundance


Taking One Step Back and Ten Forward


Discovering the Most Powerful Secret for


Drawing Money and Abundance, FAST!


Walking Your Path with Cash in Your Pocket.

Here's what folks had to say about that program.
- Hear what Ruby has to say
- Hear what Robert has to say
I listen to the CDs of Get the Money... ..at least twice a week as I commute to and from work. Every time I listen, it is like the first time (actually better with each listening)...this message has multiple layers of knowledge and insight and each listening is just like opening a gift from the Universe for me.
Darcene

Thanks so much for this. I've had the same experience with feeling that I absolutely had to read the book. I found that it spoke to me in a different way than other books with the same content. I did all the action in the book and have recommended it to everyone. Thanks for sharing your hearts and spirit with us.

Warmest regards,

Rosemary

I have to share what happened to me immediately after listening to the Get the Money seminar today. My two daughters (ages 10 and 8) had been waiting and waiting for me to get off the phone so I could take them to the mall. Well, before the call I had been hesitant to take them because money has been scarce... and I didn't want to have to tell them I couldn't buy them anything.
Well immediately after the call I kept envisioning myself in this river of abundance Tom and Penelope kept talking about, deciding not to focus any longer on my limiting thoughts of a finite bank account. We went to the mall and I was just happy to be with my girls looking at all the wonderful things we wanted to buy. We walked into their favorite clothing store and a woman walked right up to me and said: "I just received this $25 in-store gift certificate and I really can't use it, would you like to have it for your girls?" Well after I could get my mouth closed, I thanked her profusely and thanked the Universe for being so quick to deliver!!!! To me and the girls this gift was like a dream come true to have "credit" in their favorite store.
Thank you so much for holding this seminar... it was just what I needed!!! I am now in the flow!
Love and blessings,
Lisa

Just want to thank you again for the great teleseminar today. I truly enjoyed it, and feel that I have learnt much from all of you. Thanks for sharing all of your adventures and ideas with us all. I know that I appreciate you all.

Susan

Despite my fretting about money, somehow I have some extra money at the end of this month! I'm so surprised, and so grateful - but I'd forgotten I can give some of it away, with gratitude! I love getting these reminders. thanks again!
Ann

I wanted to say how much I enjoyed your teleseminars. You two are such a great team. The calls were infused with plenty of little stories that made it so fun. Tom, you're a great storyteller. Mostly, I remember how much you both gave, definitely over-delivered. Just this example itself is a big one. Just felt the gratitude and wanted to tell you so.
Kind regards,
Malika K.

Is having Money and Abundance, FAST worth 10 minutes a day?
Maybe you write lists of goals. Maybe you write lists of parameters. Maybe you work like a dog long into the night.
It doesn't matter what you do now. It doesn't matter what you know or think you know. It doesn't matter where you live or who your are.
Get the Money makes everything you do more powerful and more effective.
These tools are exactly what you need to...
Locate your own personal river of money and abundance.
Open the flood-gates so money and abundance can flow into your life.
Get the Money! Get the Money! Get the Money! gives you nearly 4 hours of tools that you need to open a never-ending flow of money and abundance into your life.
The simple secrets we detail in this material are life changing secrets nobody's telling you. And it only takes 10 minutes a day to put these powerful tools to work enriching you and your life.
I wish I could scream this from your roof top.
I cannot say this strong enough.
If you are not using these tools to create money and abundance, FAST! You are missing out on more fun, success and love than you can even imagine.
These simple yet powerful tools can change your life overnight.
Please ask yourself one simple question.
How do you start money flowing into your pockets, FAST? Now! Not tomorrow. Today. Now!
- Hear what Tip has to say
This is the lowest-priced, get-the-most-for-your-buck, highest-return offer you will see anywhere.
Penelope and I wanted to make this information available to everyone as easily as possible.
We've transcribed this powerful seminar into an amazing ebook. An ebook with over 100 pages of powerful, practical, action-oriented tools you can use anytime you choose.
So regardless of how you make money or how much you make. Regardless of whether you are employed or self-employed. Just starting out or retired. A homemaker or an investor.
This ebook can empower you to attract money and abundance faster and easier than you ever thought possible.
We wanted to make this product the lowest-priced, get-the-most-for-your-buck, highest-return we had ever seen.
So, we added great bonuses to help promote and amplify your abundance.
We included the ebook which details the system we used for getting Rich Beyond Your Wildest Dreams.
Stars from "The Secret"
Plus exclusive ebooks from two of the stars of the hit movie The Secret. One by Bob Doyle and another by Dr. Joe Vitale. Now these are both great ebooks and audios you simply cannot get anywhere else.
Still that wasn't enough. We asked a select group of very successful abundance teachers to give you their best bonus ever.
And this is why Get the Money is such an amazing offer.
Rich Dreams 100% Sold Gold Guarantee.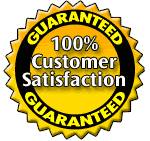 Growing up I was always impressed by the gold leaf sign you used to see over the door at Sears & Roebuck stores.
Satisfaction Guaranteed or Your Money Back.
So, that's the guarantee you get with Get the Money.
If you are not satisified for any reason with your Get the Money purchase in 30 days let us know and we'll give you all your money back. It's that simple.
This is an absolutely a no risk opportunity for you.
You cannot lose. All you can do is win.
Order today and you'll get instant access to
all 4 incredible Rich Dreams programs!
1. Get the Money! Get the Money! Get the Money! ebook. Practical Tools for Activating the Flow of Money into Your Life.
Order today and download immediately… Over 100 life changing pages of the ebook that goes where no else takes you! Learn the tools you can use anytime to…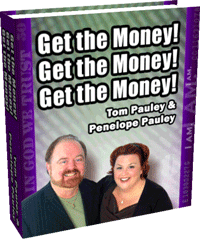 Get the Money!
Get the Money!
Get the Money!
by Tom Pauley & Penelope Pauley

$35 Value
Your life may never be the same again. How can it be? You'll have what every one wants, the secrets to attracting money.

2. I'm Rich Beyond My Wildest Dreams. I am. I am. I am. How to Get Everything You Want in Life.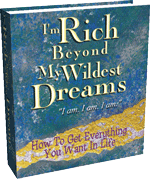 I'm Rich Beyond My Wildest Dreams. I am. I am. I am.
by
Thomas L. Pauley &
Penelope J. Pauley
Value - Priceless
This book is both the story of how the Pauley family went from a second personal bankruptcy to a rich and happy life, practically over night. And the incredible system that took them there.
This book has already changed the lives of thousands of people all over the world. Now, it can change your life, too. And it can change your life, fast!
This book is must read for everyone who wants to enjoy a prosperous, joyful life.
Here's a smattering of the hundreds of great letters people have sent to us.
---
I bought your book today and I just finished it! 8 hours in all! Thank you for such an insightful book!

I have been actively reading and searching for the past 2 years or maybe more ... from Robert Kiyosaki to Napoleon Hill to Shakti Gawain, all in search of 'the method'! The method of tapping into the Universe to unleash all that I want and know I deserve in the world! You guys have made it clear for me!
Thank you! With gratitude
Alison
---
I purchased your book from Amazon.com and I am about half way through your koo koo book. I say koo koo because I considered myself a logical thinking businessman. I have changed my position on my self image. I am an "outside of the box" forward thinking businessman who just might be a little kooky as well. Thanks for the insight, it came at the perfect time. Oh by the way, your system works and all of my friends co-workers, and family have seen my "shift." The thing is, I am not sure many of them are ready for this kind of awaking. Many weird and wonderful miracles have happened so far. Your information is powerful.

God bless you for your kooky reasoning. Einstein would be proud!
John R.
---
Actually, thank you for writing and selling the book. It is a great book, great value and an excellent gift.
Barney
---
Before I received your e-mail I did as you suggested on page 101 and wrote a letter to God. In less than 2 hours I received 2 phone calls bringing good news to me and my business. God works very fast doesn't he? This is very powerful this advice your dispensing.
God bless you Tom and your family. And thank you for the wonderful book you have written.
This stuff works!!! Thank you very, very much.
All the best,
Tom
---
This is the missing link! This is where I've gone astray! I asked for help and your ads came to me and I bought your book. It's as if years had been erased from my life and now it's all coming back.
I look forward to finishing the book and to discover other things with you.
Thank you. Thank you. Thank you.
Michael
---
Thanks for sharing your story. I have purchased your book....now I can empty out my bookcase. Your book is what I have been looking for.
Blessings,
Audrey
---
Since "Rich Dreams" came into my life, I feel like a totally different person. My self-confidence increased and my dream life started manifesting. I went from a struggling artist/teacher/entrepreneur to earning more in one month than I ever did in a whole year.
Catherine
3. Learn Bob Doyle's Secrets for Living Rich Now!
The ebook you can not get anywhere else. The science behind the Universal Laws.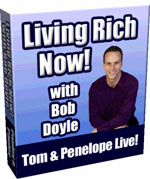 Living Rich Now!
with
Bob Doyle
$29 Value
Bob Doyle, one of the world's foremost experts on the Law of Attraction, discusses in incredible detail the Law of Attraction and it's scientific basis. How it works. And why it works. Bob takes the Law of Attraction from metaphysics to hard physical reality. He gives you solid information you can use in your life.
This is truly an amazingly powerful e-book.
Bob shows you how to:

Attract money rather than resist it

Find the point of your attraction

Discover the key to making the Law of attraction work for you

Understand the Power of how you feel in the moment

Engage your vibrational shifting exercise as you move from fear to success

Hear how the "real world" mindset zaps your attracting power

4. Learn Joe Vitale's Secrets for Living Rich Now!
This exclusive ebook has never before been released. And is only available here.
Joe Vitale reveals secrets of how he rose from living in his car to become a highly successful author and hypnotic marketing expert.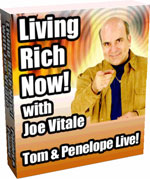 Living Rich Now!
with
Joe Vitale

$29 value
Joe's rags to millionaire story is remarkable. Read our very personal and intimate conversation with Joe. He shares secrets never before revealed. He tells you what held him back and how his life has transformed into the extraordinary success he is today.
In this amazing hour Joe describes:
The importance of altering your mental software

Empowering through example

The secret to Karmic marketing

Unlocking your personal power by doing what you love

How to read your internal compass for success

How he went from owning Saturns to driving a custom $90,000 BMW

His #1 Best Advice for getting what you want in life

Plus! – A Free Lifetime Subscription to Rich Dreams News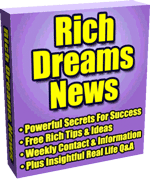 Including a Free MP3 of Tom & Penelope discussing the 3 Keys to Success. And 5 Free Lessons on Getting Rich Beyond Your Wildest Dreams.


Then every few days you'll get your newsletter with great new ideas for getting rich, questions and answers and success stories all to help keep your dreams of getting rich alive and well.

Plus! these Special Bonuses: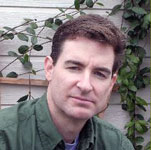 Tapping Into Abundance

Brad Yates, C.Ht.
$97 Value

Brad's MP3, the previously unreleased
"Tapping into Abundance" will help you
use EFT to clear internal blocks about
abundance. This MP3 is an exclusive
only avalable in this promotion.
---

Focus Automatically

Pat O'Bryan
$97 Value

Pat O'Bryan, director of the Milagro
Research Institute, has created "Focus
Automatically", an MP3 that uses Milagro
VF to help you focus.
---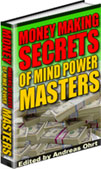 Money Making Secrets of
Mind Power Masters

Andreas Ohrt
$37 Value
Money Making Secrets of Mind Power
Masters:25 of the world's most spiritual
entrepreneurs share their hidden success
secrets for massive wealth.
---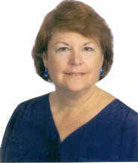 50% off Any Class at GrantMeRich.com

Jillian Coleman Wheeler
$998 Value
Receive an unprecedented discount:
a coupon worth half off tuition on Grant
Me Rich.com classes. Learn how to find
and get grants, use non-profit organizations,
even start a wonderful new career as a Certified Grant Writer!
---
Exploring the Quantum Mind

John Barker
$37 Value

Breathe in, relax, listen. Access the creative power of your mind, and activate your natural ability to solve any problem. Without effort, you will naturally feel more calm, and at ease. With confidence, you will approach any situation with a mindset that sees solutions and opportunity. The creative genius within you is waiting!
---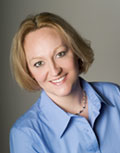 "Drops of Inspiration"

Shelby Collinge
$299 value
Drops of Inspiration By Shelby Collinge Change Your Thoughts Easily and Effortlessly, simply By Reading a Truth or Inspiration Each And Every Day.
Read Them Each and Every Day and Watch
Your Life Transform.
---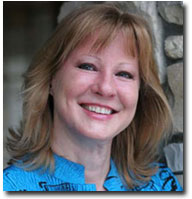 Wake Up To The Dream: How To Make Your Dreams A Reality NOW!
Eva Gregory
$699 value
A 12-week interactive e-course by Eva Gregory. How committed are you to making your dreams a reality today? What would it be worth to you to be on your way to actualizing your dreams within the next 90 days? This is a body/mind/spirit 'in the bones' course that can alter your life if you let it!
One Low-Low Price

To buy these books separately you'd spend $2300.
How do you put a price on getting both rich beyond your wildest dreams? How do your price the tools that open the flood gates to money and abundance, FAST!? That's what we asked our marketing consultants.
They thought we should charge $97. They said that was a good price point and a great bargain.
Certainly that would be a fair price. In fact wouldn't you pay almost anything to know how to attract the money you need when you're up against the wall? Or you are facing some outrageous difficulty?
We said no.
We want to make this information available to as many people as possible. The price must be much lower.
Remember Get the Money! Get the Money! Get the Money! is over 100 pages of pure money magnet material.
Plus 3 money and abundance driven ebooks.
Plus Over $2300 in specially requested Money and Abundance Bonuses.
We want to introduce you to the Rich Dreams system. We know that once you see how well this system can work for you in your life, we'll have a relationship that lasts for a long, long time.
As a special consideration for you, today…
Get everything listed above as an Introduction to the Rich Dreams library for only $35. Satisfaction guaranteed or your money back.
This offer is guaranteed for a limited time only. So, decide now. Yes or no.
Are you ready to flood your life with money and abundance, FAST!?
Then do it, now. Don't wait. Don't think. Follow your heart. Because it is through your heart that the Universe leads you. If you like what you've read, act now!
Strike while the iron is hot as my Grandpa used to say.
You've got nothing to lose and so much to gain.
Don't get left behind. This is the most complete package of abundance tools ever created for helping you get the things you want in your life.
Millions of people across the globe are already using this amazing system. And they are filling their lives with money and abundance, FAST!
Now you can too.
Order Now!
Get everything at one amazing Low-Low Price
$2300 $110 $97 $49 $35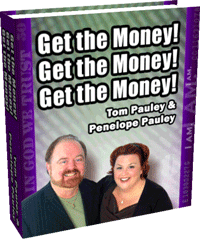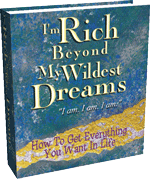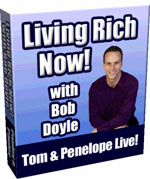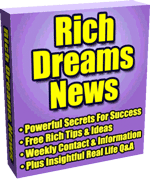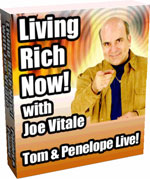 Plus the Special Bonus Package:
Tapping into Abundance - Brad Yates

Focus Automatically - Pat O'Bryan
Money Making Secrets of Mind Power Masters - Andreas Ohrt

50% off Any Class at GrantMeRich.com

Exploring the Quantum Mind - John Barker

"Drops of Inspiration" - Shelby Collinge

Wake Up To The Dream: How To Make Your Dreams A Reality NOW! - Eva Gregory

Two of the best works from Tom Pauley and Penelope Pauley. Plus the added power of exclusive ebooks from Bob Doyle and Joe Vitale. Plus all these Special Bonuses.
Order Now! Wake up to the rich and happy like you deserve. Flood your life with money and abundance, FAST!

Satisfaction Guaranteed Or Your Money Back
Good Luck & Great Adventures
Tom & Penelope
P.S. - Oh, remember Get the Money! Get the Money! Get the Money! ran nearly 4 hours long! Plus you would spend $1750 to buy all four of these powerful ebooks separately. You get a package of secrets and strategies for success, money and abundance never before offered. All for only $35 when you act now.


Here's one more testimonial we had to include. It's from one of our service men abroad. Man did this warm our hearts.
It was after 5 A.M. here in Korea when the teleclass ended, but it sure was worthwhile. Is it still possible to order the CDs ?
Sincerely,

Charles