Here's What Readers Are Saying About
"I'm Rich Beyond My Wildest Dreams. I Am. I Am. I Am.
How To Get Everything You Want in Life."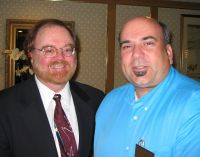 Tom with Best-selling author, Joe Vitale
"The Pauley's book is helping people create miracles. This book helped me manifest the home of my dreams. It's better reading than the daily newspaper and will lead to far more profit."
-- Joe Vitale, author, "The Greatest Money Making Secret in History"
"I'm Rich Beyond My Wildest Dreams concisely lays out the steps to wealth in an easy-to-read format. Since using the writing technique, I've launched a new phase of my real estate career—helping people with bad credit who believed they never had a shot of owning a home. With my help, they realize their dream. Of course, I profit also. I have manifested a Lincoln Navigator and the money to pay for it."
-- Sam De Angelo, Realtor®, New Hampshire
"I've been reading a little through the book daily and find it very enlightening! ABSOLUTELY I would recommend it to a friend! I will actually be using some of the stories and quotes during an upcoming meeting that I have with some colleagues! What I have appreciated so far is how the views presented seem to take a giant weight off of my mind. I have felt like a hamster in a cage, just running and running—until now! Time to let something bigger take over and just live!"
-- Gretchen Black
"A tiny handful of champions rise each year from among the world's great athletes. And likewise, a mere few teachers really KNOW. Of these few top teachers, Tom Pauley holds a unique place. His specialty is results... FAST results. Tom means results in days (even hours), not the usual months. Simple choice: keep doing what you're doing, OR let Tom show you what works. Hint: this one's a no-brainer."
-- Charles Burke, author, publisher, Japan, The Sizzling Edge newsletter.
"I really enjoyed the book, which gave me a new way to look at giving and tithing. Once I read the part on tithing, I had a huge shift in my financial situation. I have increased my income by 55%. I was eager to make a list of all who had contributed to my spiritual growth and eager to contribute. What were rows of debt on a spreadsheet are now down to one row."
-- Pat Edwards, Martinsville, IN

"This book is an absolute pleasure to read. You guys did a great job of explaining some pretty mystical stuff without killing it with abstraction. I have been drilling down through the layers of religion, philosophy, spirituality, wisdom and happiness 'theory' for 10 years. It all boils down to action. What do I 'do' next? That's the secret. Your system is one of the three most concise, readable and logical guides that I have encountered about what to "do" in the cosmic sense of the word. Good job.
-- Ron Weitnauer, electrical engineer/businessman
"I've been using your Ask and Receive system since January 2003. I've written down my dream house, and I tithe. I didn't know how, I didn't know when, I didn't know where. But the universe took care of all of this in a matter of two weeks. Everything just happened so fast. It's incredible, because the right house came to me. I'm a single mother and needed a home free of repairs, in a good neighborhood, etc. The best part was I asked for a home with lots of plants and flowers. Guess what I have in my front and back yard?"
-- Francine
"I have read the book twice. Do I like it? You bet! The authors are quick to point out that this is not about money but when one feels better, has a clearer mind, has reached down and gotten rid of the garbage of regrets, anger and fear from the past, then one can relax and allow all the good things to be attracted into one's life."
-- Doreen Baran, Sales Representative, Toronto, Ontario
"Tom and Penelope Pauley's book speaks directly to your heart and spirit, explaining the Spiritual Principle of Compensation and the Universal Law of Abundance. They provide simple-to-follow instructions to help you access the wealth of the Universe. With a proven track record, and scores of testimonials, they believe there is enough for everyone and no need for being in want of anything… They explain wealth is about more than just money and material gains. We need to see our lives in a more holistic way and realize that God wants to give us every good thing, including health, loving relationships, clarity of though, peace, serenity and an ability to be able to give what is freely given to us just for the asking."
– Flat Majic Times, Flat Majic Books and Gifts, Burien, Washington
"I have a very stressful job in a state mental hospital. After reading "I'm Rich Beyond My Wildest Dreams. I am. I am. I am," I started having a positive attitude and did not let the problems rule me. Staff members say I am a much friendlier person and have asked which book I am reading. I look at your Web site as often as I can, have listened to your audio, and look forward to each day because I know something new and wonderful will be coming my way."
-- Jan Womack, nurse manager
"As I start with a new real estate contact, I say to myself, 'Enjoy the journey' and leave the results to the universe. This puts me into a relaxed mood with no pressure about having to make the sale. I just enjoy the people and have fun with them. This allows me to do a really good job for those who come to me and I turn the results over to God. All at once, I have many closings in the pipeline and am having the time of my life doing it this way."
-- Ken Hundtoft, Realtor®, Hawaii
"I'm Rich Beyond My Wildest Dreams. I Am. I Am. I Am. tells it like it is. The authors have made the message simple and scalable for each reader to create any changes they should need to live their own dreams. I have become more responsible regarding my thoughts and feel in control of my destiny. What if we all could get here? I can't wait to see."
-- Thomas O'Connor, Mt. Laurel, New Jersey
.
It is just as easy to be rich as it is to struggle. Whatever you want you can have. Cars. Homes. Love. Diamonds. Happiness. Joy. You can have it all.
I lived most of my life believing that success was predicated on hard work, luck and money. Well, those beliefs never produced anything close to the wealth I have now. I ask and I receive. You can too. Take a look at an excerpt from our book.
You can dream rich. And you can have those dreams.
See you are here on this planet for a specific purpose. And your dreams reflect the lifestyle you require to fulfill that purpose. Your rich dreams are not an accident. They are not greed or vanity or false pride or vain imaginings. To the contrary your rich dreams are your blueprint to fulfilling your contract with Creation.
Buy the book. Read the book. Give it to your friends. Learn how to have the things you have always wanted. Live the life you were born to live. Follow a few simple guidelines and you too will get Rich Beyond Your Wildest Dreams. Click here for more information.
If you have read I'm Rich Beyond My Wildest Dreams
and would like to add your thought please email us at [email protected]
If you would like to get a copy of
I'm Rich Beyond My Wildest Dreams, click here.